Sponsored Articles
Where Our Love Lives  You came back into my dreams last night  I guess your memory can't forge...
Tags
Trending since February 15, 2021
City Morgue, one of the most important punk rap acts of today!
Boy oh boy, could it be that thexstream.net has finally decided to shed some light on one of the most interesting punk acts that popped up on the scene in the past three years? Well, today is the day, and obviously, it is finally the time for us to start talking about City Morgue, a very unique rap duo/ band that merges all sorts of influences, and finally creates a type of sound that no one has really heard...ever! We find that that this band right here has its roots in hardcore rap music, primarily influenced by groups such as Onyx, and rappers who really loved putting their raspy voice out there, such as DMX and Lil Jon. These two lads love getting all up in your face and saying just what they mean, and they don't care if they will end up getting censored. I mean, rappers being forced to "tone it down" is nothing new...it's been happening for ages. Ever since Eminem dropped the song "Criminal," the media has decided that they will no longer put up with the violent bs rappers throat at them.
However, the violent punk rap, or even "trap metal" as the kids today call it that City Morgue managed to come through is so, so much worse than the stuff our ivory playboy managed to come through back in the early 2000s. You'll hear them talk about shooting kids, women, shooting cops, decapitating their rivals and mutilating their bodies. They make sure that everyone knows that they talk the talk and walk the walk, and this is just why their music videos are known far and wide. Back when "City Morgue" was barely a thing and the act was simply called "Zillakami and SosMula," the duo dropped a music video for their song Shinners13, and boy oh boy, did the thing manage to get a whole lot of attention! Why, though? Well, the imagery was quite provocative. We have people burning cop cars, starting fights with each other, people smoking crack and shooting up heroin...and then the video got taken down from YouTube. However, the video was uploaded once more to the website and for the time being, it's still there. Then, the videos got even more vulgar when these folks uploaded the video for "33rd blakk glass" to WorldStar HipHop.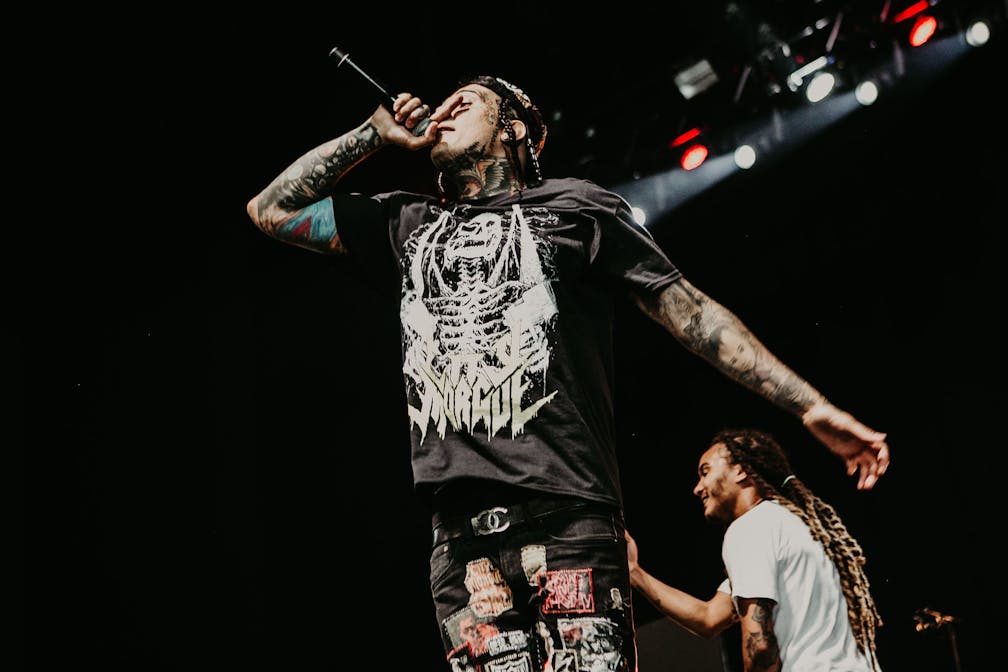 They started including hot girls with huge butts performing sex acts on each other (the chicks are primarily black, though, because SosMula really loves those), and ZillaKami shows off a god damn ROCKET LAUNCHER! Do you find it hard to believe that some random hoodlums have access to weapons like that? Zilla has stated that the police raided his home multiple times, but of course, they were unable to find his drugs, weapons, or anything that might get him locked up. The only time this kid ended up getting cuffed was when he fooled around with airport security a few months ago.

So...do you think these folks are punk enough? There's no need to talk anymore about their personal lives...at this point, I believe you all are interested in the type of music these people make. I've called them both punk and rap in this text, but we also need to talk about the fact that these dudes throw in a huge lot of metal elements in their music. Let's start with their instrumentals! First things first, we find that the samples in their music come from old punk songs, or sometimes they record their own guitar riffs. If they don't use these "organic" sounds, then the producer "Traxx" gets busy in FlStudio and whips something up. Either way, the instrumentals tend to be pretty chaotic. The drums are pretty regular, though. Well, the definition of "regular" drums in trap music is pretty loose, but you've got the standard blaring 808s all over the place, with a whole lot of distortion added, and the BPM isn't really low. The two rappers come through with some pretty interesting vocals, too. I mean, this is probably why they are characterized as a "trap metal" duo sometimes. Both SosMula and ZillaKami scream over their tracks, but not in the "orthodox" fashion like all these death metal vocalists.

They come through with these screams from the throat, and they make sure that they're extra loud. However, ZillaKami does growi in some tracks, and he even does clean vocals every now and then. He used to do this much more in his old songs, though. SosMula rarely stops screaming in his songs...sometimes he only yells loudly, though (these two are not the exact same things...just ask any metal vocalist and he will explain it to you)! The funniest thing about these two is the fact that they heavily influenced the famous rapper Tekashi 6ix9ine who just so happens to be in prison right now.

However, these two parted ways with their rainbow-haired friend once the Mexican's sexual misdemeanor charges surfaced. Hell, even dudes who shoot up heroin on the regular (and have most likely killed people) have some standards! Oh, and these two are also obsessed with pornography, which isn't surprising. They surely would have loved to try out some Hentai Fighting games back in the day when they weren't this busy, since they both seem to like Asian girls. Both SosMula and ZillaKami are single at the moment, so it could be that they could use a Strip Games to accompany them while they're touring. Seriously, though, ZillaKami has posters with big titty girls glued to every single wall in his room, so finding out that he's addicted to porn games such as FapCEO would not be a surprise. The guy would surely love to try out SinVR, there's no doubting this. Does all this info not make you curious about these two fellas?